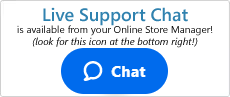 How do I set up a checkbox to ask customers to agree to terms at checkout?
Shift4Shop has a feature that allows you to create specific checkout questions that can be answered by your shoppers during the checkout process. One of the more common uses of this function is to create a checkbox that must be marked in order for your shopper to successfully checkout and place their order. This is useful if you would like for the customer to agree to your store's terms and services.
To set this up, please use the following steps.
Log into your Shift4Shop Online Store Manager
Using the left hand navigation, go to Settings >General >Checkout Questions

Click "+Add New" at the top right had side of the screen
In the "Question" field, type in "By clicking here you agree to adhere to our terms and policies."
(You can edit this to suit your needs)
Using the "Step" drop down menu, set it for step 3
Leave the "Options" field blank but mark the "Required" checkbox located to the far right of it.
Under "Question Type" select Checkbox from the drop down menu.
Set "Customer Group" to All.
Click "Save" at the bottom right of the section to create the checkout question.
By following these instructions, your store's final checkout page will contain a checkbox that will need to be marked before the shopper is allowed to continue with their order.
For more information on using the Checkout Questions function as well as other example of commonly used questions, please click here.
---