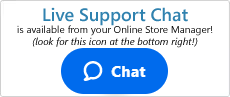 Knowledgebase
What are the available Email Template Variables?
In a previous article, we outlined where you can go to review and edit the HTML (or text) templates that are used for your various store email messages.
Within these next articles, we'll provide a listing of the dynamic variables that are used by those email templates to help you in your editing.
Important
Some email variables utilize "code blocks" in order to insert the correct information into the final email from the store's database. Code blocks will be commented out in the template with comment tags like these:
<!--START: Comment/code block ->
[template coding]
<!--END: Comment/code block ->
Therefore, please be sure to preserve the comment tags for the code blocks (when they are present) to ensure the dynamic variables perform correctly.
Also, please be aware that some of the variables are specific only to certain email templates. Merely adding variables from one template to another, may not necessarily work in the manner you intend. Some trial and error may be necessary.
Please go to a link below to review variables for specific email templates.
---