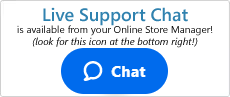 I turned it off! Why is my mailing list still showing?
If you have opted to turn off mailing list from the store modules section, you may have noticed that it still appears on your store front.
Rest assured that the mailing list is indeed turned off. The reason you are still seeing it however is because you are still logged into the Shift4Shop Online Store Manager. This is done on purpose for troubleshooting purposes, and is not seen by your customers/site visitors.
To confirm that it is in fact turned off, log out of the OSM and view the store or view the store in a different browser other than the one you're logged in with. You will see that the mailing list is not there.
---