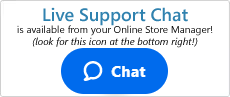 Why are my Mobile Product Images not Displaying?
Note
The following information only applies if you happen to have your store's DNS information hosted within your own Cloudflare account.
If your product images are not displaying on mobile platforms, it could be due to settings on your Cloudflare account. The following two items may fix your issues:
Log into your Cloudflare account and clear its cache
If you have Rocket Loader enabled on Cloudflare, please disable it.
Please consult Cloudflare's documentation for information on getting to the above sections. Also, please understand that - since Cloudflare is a third-party service - if neither of the above items fixes the issue, please check with Cloudlfare to see if there are any other possible causes that can be ruled out before speaking to Shift4Shop.
---