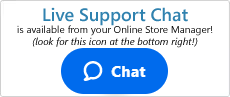 Why Aren't My Taxes Working?
Issue
Tax calculations are set up, but not being applied to orders correctly.
Likely Cause
Tax codes have been set up but not assigned to products.
A common mistake when setting up Tax Calculation on the store is to create Tax Codes on the individual tax rates, but not assigning those codes to specific products.
Some areas charge tax differently depending on the type of product being sold. For example, the tax charged for regular goods may be different than the tax charged for consumable goods (like food) in some areas. The Tax Code function when setting up your tax tables is present to allow merchants to charge different tax rates on different items as needed.
However it is important to note that - if you set up a tax range with a tax code - you should also then apply that tax code to products that will use it. Otherwise, the store will not calculate tax at all. The tax code for products can be set up in the product's Advanced Tab.
For more information on using the Tax Code option, please click here.
---