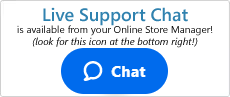 Why are my On Sale Tag and Sale Price Not Showing?
Issue
The product is marked as "On Sale" but the On Sale Tag and the On Sale Price are not appearing on the item.
Cause
The on sale price and tag will not display for a product unless the actual sale price is lower than the normal price.
The on sale tag will normally appear on category and product page displays to indicate to your customers that products are on sale. However, a common mistake is to mark the product on sale but leaving it at a price that is equal to or more than the product's regular price. This negates the display of the item being on sale.
Therefore, when marking your products as "On Sale" be sure that the on sale price is lower than the regular price.
---