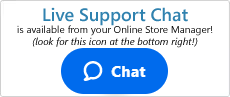 How can I update my store's Core Theme to its Latest/Default State?
Note
The following will apply only to Shift4Shop's default free themes available in your Shift4Shop Online Store Manager. For premium themes or themes purchased third party, please refer to the vendor of your theme.
In a previous article we describe the way of updating your store's individual HTML templates to their default or most up to date state.
However, there may be times when you also need to update your store's Theme files to their latest or default state. This can be necessary when either there are new features added to the Core Theme itself or perhaps you've made too many of your own customizations to the theme and wish to go back to its "factory" settings.
The following instructions will show you how to reinstall your theme and revert it back to its default and most up to date state. The entire process should not take very long, but since you are dealing with the store front's theme, we suggest using the Close Store feature to temporarily prevent access to the store while you update its theme.
Connect to your store's FTP access
(Check your welcome email for credentials)
Navigate to web/assets/templates/
Look for the folder labeled with your current Theme's name. For example "veniam-core"
Additional Information
You may go to Settings >Design >Themes & Styles to see your current installed core theme's name.
Download the folder to your desktop to act as a backup
(in case you want to revert later)
Next, in the FTP program, go into the actual theme folder.
If the folder itself contains any HTML files

other than

frame.html, rename those additional files to contain the word "CUSTOM" in their name. For example, if there's a home.html in the folder, rename it to homeCUSTOM.html and so on. Leave frame.html as it is.
Additional Information
Typically when a theme is installed, you're installing a frame file with supporting CSS files. However, in some cases, certain themes might have their own supplemental HTML templates for category or home page displays and other functions. Unfortunately, it can be difficult to tell which of these supplemental files come with the Theme or perhaps were customized after the fact. Therefore we suggest to rename the supplemental files just in case they contain customizations that you would like to preserve and incorporate later from the "CUSTOM" named file or from your backups made in step 4 above.
Please note that HTML customizations are not within the scope of support for Shift4Shop's technical support team.
By this point, you have made a backup of your theme folder, and have renamed any supplemental HTML files on the installed theme itself. Now you will need to reinstall the theme from your Online Store Manager to get it back to its updated/default state.
Log into your Shift4Shop Online Store Manager.
Using the left hand navigation menu, go to Settings >Design >Themes & Styles
Within the "Installed Themes" section, click on the thumbnail image for your currently installed theme
Then, click on the "Re-Install Theme" button
The system will re-download the theme to your store and apply it along with its default settings.
---