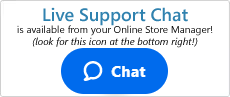 Knowledgebase
How is the Store Status feature used?
If your site is live to the public and you would like to make design/functional changes to the store without having your customers see the process (or possibly have your changes interfere with their shopping experience) you can use the Store Status function to temporarily prevent access to the store.
By closing the store, you can create an 'under construction' page that the public will see when they go to your domain.
Furthermore, you can limit access to the store so only you and your staff can see the site during the designing and functionality edits.
To close the store:
Go to

Settings

>

Design

>

Store Status

Check the Store Closed radio button.
Create the message you would like your customers to see in the WYSIWYG editor.
Click "Save" at the top right to close the store.
Tip
Instead of having a Store Closed page to greet them, you can also use the "Redirect URL" field if you would like to redirect visitors to a different domain/website while the store is in its closed state.
As an alternative to closing the entire store, you can also select to only close the checkout portions of your site by selecting the "Checkout Closed" radio button. This will still allow your customers to browse your products and site in general but will place your Store Closed Message if the customer tries to proceed to checkout.
Additional Information:
Please also note that the store will be viewable to you if you attempt to view it under the following two conditions:
A: You are currently logged into the store's Online Store Manager.
-and-
B: You are viewing the store from the same browser that is logged in to the Shift4Shop Online Store Manager.
To view the store fully - in all instances - from your own network/Internet connection, follow the steps outlined below.
Grant Access To Your IP
Once you close the store, you can grant access to your connection's IP address so that you can see the changes you make to the store while it remains closed to the public.
To do this, click the "Add My IP" button under the Grant Access To These IPs section, and the system will automatically populate your connection's IP into the field.
Note:
If your connection's IP address changes at any point, you may be blocked from viewing the site. However, you can still log into the administration sections and reset your IP. Closing the store only affects the front-end portion of your site.
---
To open the store:
To make the store accessible to the public once again, follow the same steps described above and select the "Store Opened" radio button.
---