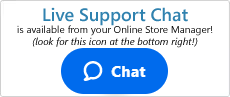 How Do I Enable The Flyout Cart?
Beginning with version 9.1.18, CORE Themes can also use a flyout cart that will display when a visitor clicks on the cart tab of their store pages.
To enable this feature, follow these steps:
Important
The following feature has been implemented on Shift4Shop CORE themes and templates only. HTML5 themes do not have this capability.
Log into your Shift4Shop Online Store Manager
Using the left-hand navigation menu, go to Settings >General >Store Settings
Once you get to the Settings page, click on the "Display Options" tab located along the top.
In the Global Options section, mark the checkbox labeled "Enable Flyout Cart"
Click "Save" at the top right of the page
When someone adds an item to their cart and clicks on the cart tab (located on the right hand side of the frame), they will see a small popup representation of their cart similar to what's shown here:
---
Please note
This feature is reliant on HTML coding present on your store's default HTML templates. Specifcally the frame.html file. For this particular feature, you will need to update your frame file to its default state by reinstalling the theme. This will ensure your store is using the latest version of the frame.html file.
Please be sure to make backups of your design templates before reinstalling the theme.
---