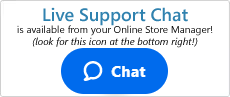 How to I set my New Releases?
As you add new products to your store, they will appear in the "New Releases" section of the store's left hand column.
Tip
You can control when an item is considered a "new release" by changing the "Date Available" setting in each individual product's "Advanced" tab. Items set as "available" closer to the present (but not set in the future) will be displayed as New Releases accordingly.
The New Releases Module can be used to control how your store's New itesm are displayed.
Log into your Shift4Shop Online Store Manager
Using the left hand menu, go to Modules
Once there, use the search bar at the top of the page to locate the "New Releases" module
Place a mark in the "Enable" checkbox
The "Settings" button located on the module gives you access to the following options:
Number of New Released Items
This allows you to specify how many items are shown in the New Releases section of the left column.
Display Category Specific New Releases
Mark this checkbox to have the New Release items be specific to whichever category is being viewed at the moment.
Once you've configured your settings, click "Save" at the top right of Modules page to set your changes.
Additional Information
The New Releases will appear in the store's left hand column. Depending on your selected theme, the left column may be turned off for some pages. Typically, it is already enalbed on the category pages. You may turn the left column on additional pages as needed using the store's "Titles and Content" section.
---