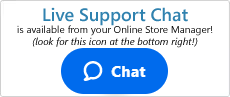 How do I properly point my domain to Shift4Shop?
You can use either of the following options to properly point your domain to us.
Option 1: Point your DNS records to Shift4Shop
This is the simplest option, since it will effectively let Shift4Shop manage all of your DNS needs. Simply log into your domain's regstrar service (who you registered your domain with) and update the domain's name servers to the following:
DNS1.3DCART.COM
DNS2.3DCART.COM
DNS3.3DCART.COM
Once the information is updated and propagated online, Shift4Shop will effectively manage all of your domain's DNS Zone File records for you.
Note
When re-pointing DNS, first check to see if you have other custom records, such as Email (MX), A-records or additional CNAMES. If you are using other custom DNS records, you will also need to re-create them in the Mange DNS tool.
Option 2: Create a CNAME on your DNS
If you prefer to keep your domain's name servers unchanged, then an alternative would be to create a CNAME on the domain's WWW sub-domain record. The CNAME would then point to your shared *.s4shops.com URL. (or *.3dcartstores.com for legacy users)
Either of these methods can be used to make your store's DNS work with Shift4Shop.
Tip
It's very likely that your domain already has a record created for its www sub-domain. Typically this is added as an A record pointing to an IP address or a CNAME pointing to the main domain. Therefore, if you decide to use the CNAME option described above, you'll likely just have to edit the www record rather than create it as new.
---
I don't want to use a CNAME or Shift4Shop's DNS. Instead, I'd rather have an A record pointed to my store's IP address.
Shift4Shop uses a content delivery network (CDN) known as Cloudflare to help improve DNS management, load balancing and Distributed Denial of Service (DDoS) protection.
Unfortunately, due to the way the content delivery network is configured, an A record pointing to the domain's IP address is not currently possible. Instead, you can point the domain's A record to to one of the following IP addresses:
104.19.177.121
104.19.178.121
The above IP addresses will direct properly to your domain's A record on the Shift4Shop/Cloudflare service.
As an alternative, you can also sign up for a free Cloudflare account which will let you manipulate your domain's DNS information as well (after pointing to Cloudflare).
---
Linking the Domain
After changing your domain's DNS information to point to your Shift4Shop store, you will also need to link your domain to the store.
Please follow the steps outlined here to complete this part of the process.
---