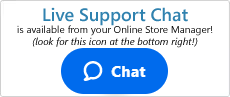 Knowledgebase
Shift4Shop and Cloudflare
In an effort to improve DNS management, load balancing and Distributed Denial of Service (DDoS) protection, Shift4Shop is transitioning all Shift4Shop powered stores to Cloudflare's Content Delivery Network (CDN).
---
What is a CDN?
A content delivery network (CDN) is a network of webservers that delivers your website content to users in a more efficient manner. It accomplishes this by caching your files on servers that are closer to where your visitors are across the globe. This allows the content to be delivered faster to users while also protecting the site from unwanted and malicious incoming traffic.
---
Will this cost extra?
No. This upgrade is being implemented as part of the default Shift4Shop service to all users going forth.
---
Does my store have to be served through Cloudflare?
Yes, all Shift4Shop powered stores will be served using Cloudflare going forward.
---
Is Shift4Shop still hosting my online store?
Yes! Cloudflare is not a hosting service, per se. Instead, it works more like a conduit for traffic coming into your store and improving site performance, while keeping your website safe from unwanted attacks.
---
Will this affect my store's SSL certificate?
Not at all! The move to Cloudflare will not have any impact on your store's installed SSL certificate.
---
Will I experience any downtime when the transfer occurs?
If your domain is properly pointed to Shift4Shop (see below), then you are not expected to have any downtime at all. It is recommended that you check your DNS early and make sure your domain is properly pointed now to ensure the transition will go smoothly when it happens.
Do I need to change my DNS settings?
In most cases, there's nothing you will need to do to your domain's DNS. If your domain is properly pointed to Shift4Shop, you should be all set.
---
What if Shift4Shop handles my DNS?
If your domain is registered through Shift4Shop, you're all set. There's nothing further needed for your DNS.
---