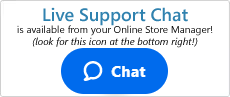 Knowledgebase
How do I properly point my domain to Shift4Shop?
Tip
The following instructions cover updating your domain's DNS record via the registrar service. These are companies (i.e. GoDaddy, Register.com, etc) that basically offer registration services for domain names to the general public. However, if you're not sure who your registrar is, check with your previous hosting company. Many hosting services offer domain registration as part of their hosting plans and may have registered the domain name for you originally. If so, it's very possible that they will also have methods within their system to either update your domain's DNS, or otherwise transfer ownership of the domain to your own registration so you can manage the domain as needed.
You can use either of the following options to properly point your domain to us.
Option 1: Point your DNS records to Shift4Shop
This is the simplest option, since it will effectively let Shift4Shop manage all of your DNS needs. Simply log into your domain's regstrar service (who you registered your domain with) and update the domain's name servers to the following:
DNS1.3DCART.COM
DNS2.3DCART.COM
DNS3.3DCART.COM
Once the information is updated and propagated online, Shift4Shop will effectively manage all of your domain's DNS Zone File records for you.
Note
When re-pointing DNS, first check to see if you have other custom records, such as Email (MX), A-records or additional CNAMES. If you are using other custom DNS records, you will also need to re-create them in the Manage DNS tool.
Option 2: Create a CNAME on your DNS
If you prefer to keep your domain's name servers unchanged, then an alternative would be to create a CNAME on the domain's WWW sub-domain record. The CNAME would then point to your shared *.s4shops.com URL. (or *.3dcartstores.com for legacy users)
Either of these methods can be used to make your store's DNS work with Shift4Shop.
Tip
It's very likely that your domain already has a record created for its www sub-domain. Typically this is added as an A record pointing to an IP address or a CNAME pointing to the main domain. Therefore, if you decide to use the CNAME option described above, you'll likely just have to edit the www record rather than create it as new.
---
I don't want to use a CNAME or Shift4Shop's DNS. Instead, I'd rather have an A record pointed to my store's IP address.
Shift4Shop uses a content delivery network (CDN) known as Cloudflare to help improve DNS management, load balancing and Distributed Denial of Service (DDoS) protection.
Unfortunately, due to the way the content delivery network is configured, an A record pointing to the domain's IP address is not currently possible. Instead, you can point the domain's A record to to one of the following IP addresses:
104.19.177.121
104.19.178.121
The above IP addresses will direct properly to your domain's A record on the Shift4Shop/Cloudflare service.
As an alternative, you can also sign up for a free Cloudflare account which will let you manipulate your domain's DNS information as well (after pointing to Cloudflare).
---
I'm using my own Cloudflare Account DNS.
If you are using your own Cloudflare Account's DNS settings, and you have the A record pointed to one or both of the IP addresses shown above please be sure to also turn off the Proxy Status on the A records and set the A record(s) to "DNS Only" status.
This is because the IP addresses you are pointing to in this case are also using Cloudflare and proxies. Having the proxy enabled on your set up will conflict with the same proxy setup on the Shift4Shop end.
---
Can I use a Second-Level Domain?
In some cases, you may want to keep your regular domain name separate from your Shift4Shop store. Rather than having your current domain (yourdomain.com) be the actual URL to your store, you may instead want to have your Shift4Shop store act as a second level - or sub-domain - to your base domain name. (store.yourdomain.com)
To do this:
Create a CNAME record for your domain through your domain registrar
When creating the CNAME, make sure it points to the

shared

URL of your Shift4Shop website.
Tip
The CNAME host can be whatever you'd like it to be. A CNAME record is simply "something"[dot]yourdomain.com. Some common examples are store.yourdomain.com, shop.yourdomain.com, or cart.yourdomain.com. Your registrar should be able to accommodate the adding of a CNAME as needed.
Your shared URL is provided in the Welcome Email you received when your account was created. It will consist of your domain name and *.s4shops.com at the end (or *.3dcartstores.com for legacy stores). For example: your-domain-com.s4shops.com
The final step will be to link your custom URL in your Shift4Shop store's online account manager. (See the Linking the Domain section below)
Afterwards, you can simply link your main domain's store/shopping links to reference the newly created sub-domain.
Note
The above information serves to answer whether a sub-domain is possible to use on Shift4Shop's service and is intended for new account sign ups. Please note, however, that if you are changing your existing domain name into a sub-domain, we will need to treat the process as a "Domain Name Change" which may incur additional fees.
---
How many sub-domains can I have pointed?
A question we get often is in regards to how many sub-domains can be pointed to the Shift4Shop store at once. Techincally, you can point as many sub-domains as you'd like to your Shift4Shop store. However, as far as the actual Shift4Shop store is concerned, only one of the subs will apply to your site. All other sub-domains will merely be redirected.
In other words, let's say you want to have both shop.yourdomain.com and store.yourdomain.com go to the same store. To do this, you would need to select one that will be the main URL and use the above steps (create the CNAME, change the store URL, etc) to accomplish this. Let's say we've chosen store[dot] as the main one. This leaves us with the shop[dot] URL.
For the second sub-domain, you will need to have your registrar create a forward that points shop.yourdomain.com to store.yourdomain.com. The effect in this case will then be that users going to shop.yourdomain.com will be redirected to the real store located at store.yourdomain.com.
Additional Information
If you are using your top level domain to advertise products that redirect to your store on the sub-domain, be sure to allow for external add to cart links on your store to prevent issues with orders. Click here for more information.
---
Linking the Domain
After changing your domain's DNS information to point to your Shift4Shop store, you will also need to link your domain to the store.
Log into your Shift4Shop Online Store Manager
Using the left hand navigation menu, go to Settings >General >Store Settings
Once there, look under the "Store Logo" field where you will see a button labeled "Manage Domain & Store URL"
Click this button and you will see the following page:
As shown in the image above, the page will contain a section at the top for the Primary Domain. This section will contain your *.s4shops.com URL and your regular store domain along with a label indicating which one is currently active.
If the domain's status is blank or says "Not Active" this means that the domain isn't yet connected to your Shift4Shop store.
Click on the "Change Store Domain" button
Enter your domain name to begin the connection process
Once the connect process is completed, the domain will be used for your store's Primary Domain and replace the *.s4shops.com URL. Note however that it may take a bit of time (1 to 4 hours) for the update to finish completely. When the status indicator next to your domain says "Active" you'll be all set.
Additional Information
If you're looking to have Shift4Shop register a brand new domain for you, you can click on the "Buy New Domain" button located at the top right of the Domain Settings page to get that process started.
On the other hand, if you're looking to change your Shift4Shop store's domain name, please click on the "Change Store Domain" button located on lower right corner of the Primary Domain Section to order a domain name change.
---
Security Certificates
The bottom half of the page will show you the active URLs used for your store's Secure Pages.
This is the URL that is used when your store switches to SSL protocol for secure transactions. This will be updated to your actual domain name when you have your own custom SSL certificate registered and installed on your domain.
As part of the Shift4Shop service, you get a free domain validated SSL certificate. However you can also click on the "Order Premium SSL" button, to begin the process of ordering your own Premium or Extended Validation SSL certificate.
---