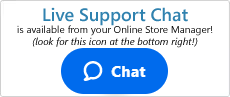 How Does the WA State Dynamic Sales Tax Add-on Work?
Merchants who need to charge taxes specific to Washington State may wish to use Shift4Shop's WA State Dynamic Sales Tax add-on.
This add-on is useful since it allows your store to properly and accurately calculate taxes using Washington State's Destination-based Sales Tax methods.
If you have already purchased this add-on for your Shift4Shop store, the followingsteps will help you set it up.
---
When you receive notification that the module has been enabled on your store:
Log into your Shift4Shop Online Store Manager
Using the left hand navigaiton menu, go to Settings >Payment
Next, click on the "Setup Tax" button located in the "Tax Manager" section.
If you haven't set up tax calculation methods on your store yet, you will see a placeholder page titled "Configure your store's tax settings" and a button labeled "Add New Sales Tax" at the bottom of the placeholder page. Proceed with the next steps.
Note
If you have already set up Tax calculations on your store, skip to the "Enabling the Module" section below
Click on the "Add New Sales Tax" button
Select United States in the Country dropdown menu
Then select Washington in the state dropdown menu
Leave the "Zip From" and "Zip To" fields blank
Leave the "Tax %" field blank
Click "Add" at the bottom right of the popup modal to proceed.
---
Enabling the module
On the Sales Tax page, look for the "Real-time tax calculation" section towards the bottom half of the page where you will find your Washington State Tax settings. You will see three checkboxes:
Enable Washington State Destination-Based Sales Tax
Mark this checkbox to enable the add-on.
Include Shipping
If marked, this option will include the order's shipping charge as part of the calculated tax rate.
In other words, if the order subtotal is $5, but shipping adds an additional $3 to the order, tax will be calculated for $8
If the box is unchecked, then tax will be calculated for the subtotal of the order minus shipping.
Include Discount
This option will calculate tax on the order

after

discounts have been applied.
In other words, if the order subtotal is $5, but a discount/promotion takes $2 off, then the tax will be calculated for $3.
After you've completed configuring your settings, click "Save" at the top right and you're all done. Your store will now calculate Washington based sales tax in real-time.
---
Checking Rates
If you would like to confirm that proper tax charges are being furnished by the add-on, you may use Washington's DOR Tax Rate Lookup Tool, located by clicking here.
---