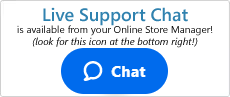 Why Are My Product Images Sideways?
Problem: Product images are being displayed sideways after assigning them to products.
Cause: Images are being uploaded to the store directly from camera's storage card.
In some cases, taking a raw image from a camera's SD card or phone, and uploading the image directly to your Shift4Shop store may result in the image being displayed sideways or even upside down.
The reason for this is because not all devices have a standard way of properly marking the image's orientation. While the image may look properly rotated on your device's view screen, once it's viewed on a different device (like your browser or website), it may appear sideways.
To prevent this, it is best to upload images from your camera device to your computer first and then use an image editor to properly rotate and adjust the image's orientation.
The following external article contains more information and tips on dealing with images that appear sideways when they're uploaded. Click here to review it.
---