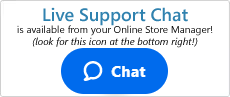 Why doesn't the "Buy Now" image appear?
Problem:
When using the custom buy it now code found in the advanced tab of a product, the buy it now image is not showing up or appears to be broken.
Solution:
Within the code that Shift4Shop provides to you in the Advanced Tab; the image tag code is simply a suggestion/placeholder. There is no actual image named "buy.gif" file by default on your site. You are free to use whatever "buy now" image you'd like. If you'd like to use an example of a buy now image, you can easily save this image to your hard drive:

(right-click this image and "Save As" to your desktop. Be sure to name it "buy.gif" when saving!)
Then, by using FTP (or file manager), you can place this file in your /web/assets/images/ directory, and the code we supply will work.
Subsequently, any buy now button image you'd like to use can be uploaded to that same directory with the file name "buynow.gif" and the code we provide will work as well.
---