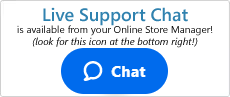 How do I use the Product Comparison Module?
To use the product comparison module, follow these steps:
Log into your Shift4Shop Online Store Manager
Using the left hand navigation menu, go to Modules
Once there, use the search bar at the top to search for "Product Comparison"
This action will bring up the Product Comparison module.
Click on the "Edit Product Comparison" link to continue
The module's settings page will contain several checkboxes:
Enable product comparison
Mark this checkbox to enable the module.
Comparison Points
Below the enable checkbox, you'll have a series of additional checkboxes for various product parameters. These are the different comparison points that you can specify for the product comparison function. Your choices are:

SKU
GTIN
MPN
Length
Width
Height
Price
Extra Field 1 through 5
Free Shipping
Weight
Product Features
When your shopper is comparing products, the selected parameters will be displayed on the grid for the user.
---