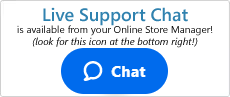 How do I use Shift4Shop's Integration for Mailchimp?
Mailchimp is a service that allows you to create and send marketing newsletters for your business. Aside from basic newsletter services, they also provide automated ecommerce newsletter services such as abandoned cart emails, targeted product recommendation emails and other services specific to online stores to help you market your online store.
Your Shift4Shop store can be integrated with Mailchimp to allow you to use these ecommerce features and functions from Mailchimp.
Notes before starting
Mailchimp is a 3rd party newsletter service provider. In order to use Shift4Shop's integration with Mailchimp's service, you will need to first create your Mailchimp account. Please visit https://mailchimp.com/ for pricing and sign up information.
Before proceeding with the following steps, please make sure you have at least one subscriber list and one newsletter campaign set up and created on your Mailchimp account. The mailing list you create will need to be unique to your store, and your newsletter campaign(s) will need to be linked to this mailing list (which occurs when creating the campaign on Mailchimp). This way, proper reporting can take place. The subscriber list doesn't necessarily need to have subscribers in it yet (they'll be imported from the integration), but it needs to be created so that you can select and populate it from your Shift4Shop store's customer records.
---
Connecting your Store to Mailchimp
Log into your Shift4Shop Online Store Manager
Using the left hand navigation menu, go to "Modules"
Once the page loads, type in "Mailchimp" in the top search bar to bring up the module.
Click on the "Settings" button to proceed
If this is your first time setting up the Mailchimp integration, you will see a basic page with a button labeled "Connect to Mailchimp" at the top left.
Click on the "Connect to Mailchimp" button
Sign into your Mailchimp account and allow the page to refresh.
Once this connection is made, the page will have new sections available to you. These sections are:
Enable Mailchimp
You will see a checkbox labeled "Enable Mailchimp" at the top of the page with some additional settings below it. Use this checkbox to turn on the integration. However, before saving the page, you will need to configure the additional settings below it, starting with the Ecommerce Mailchimp Store dropdown menu.
Mailchimp Store
In the Ecommerce section, look for the Mailchimp Store dropdown menu and select either "Add New Store" or your ecommerce store if it is listed.
Additional Information
If you have ever used Mailchimp's Ecommerce services to connect to any of your online stores in the past, they will be listed in this dropdown menu. Otherwise, if you are completely new to Mailchimp, the only option you will see is "Add New Store"
Additionally, if your dropdown lists are not populated correctly, click on the "Refresh Mailchimp Lists" button at the top right to refresh the information in the dropdown menus.
Just be sure that - whether you Add new store or are choosing an existing store - you select the mailing list that is unique to the store you are connecting.
Mailchimp List
To the right of the Mailchimp Store dropdown menu, you'll see a section labeled Mailchimp lists. Use this dropdown to select the list you will use for this store. Again, be sure to have at least one list already created on your mailchimp account before getting to this step and that the mailing list is unique to your store.
Additional Information
Although Mailchimp allows you to create multiple mailing lists for a variety of reasons (i.e. multiple stores, channels, etc), it is important that you create and designate only one specific mail list to be unique to the Shift4Shop store you are integrating the service with. Each campaign that is to be used for the store will then need to be attached to the unique mailing list for the store. )If you have multiple Shift4Shop stores, then each individual store should have its own unique mail list and campaign sets that are attached to each individual lists.)
In essence, the relationship/flow for the integration is as follows:
A specific Mailing List is created on Mailchimp and intended for the Online Store
Each Campaign for the store is created and attached to the Mailing List for the Online Store
You then connect the Online Store to Mailchimp and link it to the Mailing List; which is in turn attached to the relevant Campaigns.
This is neccessary in order to get proper reporting for your marketing email campaigns on Mailchimp's interface.
If you are integrating multiple stores with Mailchimp, perhaps consider incorporating the name of each store into the naming convention of your mailing lists and campaigns on Mailchimp, in order to make things easier to map properly. (i.e. storename-mail-list, storename-newproducts-campaign, storename-upsell-campaign, etc)
---
Synchronization Options
On the bottom half of the page you will see a series of checkboxes. These are your synchronization options for the Mailchimp Integration. Through the integration, your Shift4Shop store will synchronize information from your store and insert it into your Mailchimp service so that you can use the Ecommerce functions from Mailchimp.
Your choices here are:
Synch Customers
Synchronizes your store's maillist enabled customers to your Mailchimp list.
Note
Synchronizing Customers will download your customer database to Mailchimp. This synchronization is available on all versions of Mailchimp. The rest of the synchronization options listed below will require you to have Mailchimp's Ecommerce Automation services included on your account. Click here for more information.
Keep in mind however, that Maichimp's pricing structures are dependent on the number of subscribers that you use with their service. Therefore, be aware that the synchronization of your subscriber database may increase your plan with Mailchimp.
Synch Products
Synchronizes your store's Products to your Mailchimp account so that you may use Mailchimp's segmentation and product recommendation Ecommerce functions.
Synch Carts
Synchronizes your store's incomplete carts so that they may be used with Mailchimp's abandoned cart ecommerce solution.
Synch Orders
Synchronizes the store's Orders with Mailchimp so the information can be used with Mailchimp's Product recommendation ecommerce tools. Similar to the carts option above, the drop down menu to the right of it will allow you to select which of your campaigns will be used for this service.
Tip
While all of the above data will synchronize over to Mailchimp, be aware that you will need to have the Ecommerce Automation services enabled on your Mailchimp account to use those special services. Please click here for more information on Mailchimp's Ecommerce Solutions.
---
Synchronization Status
After you have selected and configured your Mailchimp synchronization click the "Save" button at the top right to commit your changes. The synchronization process will occur in the background. After the synchronization process is complete, you will see a readout of its progress at the bottom of the page.
---