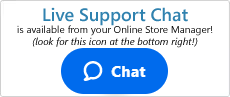 Knowledgebase
Completing Your Shift4 Payment Account Set Up
Follow these steps to complete the Payments Account Setup on your store's Shift4 Payments method.
Log into your Shift4Shop Online Store Manager
Using the left hand navigation menu, go to Settings >Payments
On the Payment page, click on the "Select Payment Methods" button
Look at the top of the page where your Shift4 Payment module is. If you see the following notice, it just means that you'll need to finish the set up process.
Click on the "Complete Account Setup"
Fill out the application form
When filling out the application form, you'll input the following:
Banking Information
For your payment deposits
Additional Information
[COMING SOON!]
Your banking information will be automatically verified during setup to help minimize errors when filling out the form. This in turn will help mitigate the need for manual reviews which could delay your application process.
Business Type
Whether you're selling as an individual or have an established business
Business Details
Your store name, business name, and business address information.
Your contact information
For ID verification
Product Information
The type of product or services you'll be selling and your expected revenue
Terms & Conditions
Acknowledgment and acceptance of the Terms and Conditions
Once the form is completed, click on the "Complete Account Setup" button at the top right of the page to submit your application. You will then be notified via email when the process is complete.
Note
You can also click on the "Save" button if you are not yet ready to submit the application. For example, if you enter your business information, but still need to gather your bank information; you can save your progress and come back to the form later.
However, to fully finish the setup and complete the process, you must ultimately click on the Complete Account Setup button mentioned above.
---
Opening Your Store
Be aware that - if you are on the free End-to-End eCommerce plan - your store is closed to outside traffic until your Shift4 Payment Account Application is complete. Therefore, after submitting your application, be sure to open your store for business!
To open your store, go to Settings >Design >Store Status and set your store to open status when you're ready to go live. Click here for more information on using the Store Status function.
---