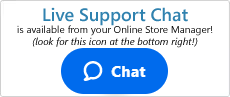 How do I Create "Saved Replies" for CRM?
Beginning with version 7.2.2 of the Shift4Shop platform, your store's CRM functionality can now be set up with Saved Replies which can be used when replying to the CRM tickets. This can be useful when replying to multiple tickets that contain essentially the same message over and over again.
---
Create a Saved Reply
As you begin processing and replying to any CRM ticket, you will see a link along the far right of the Message box. This new link will be labeled "Add a Saved Reply"
Click on the "Add a Saved Reply" link
Next, click on the "Create" button found along the top right
Enter a name and message for your saved reply
Tip
As you create the saved reply, you can add dyncamic tags to it by clicking on the "</>" button found towards the right of the "Write your Saved Reply" box. This allows you to enter dynamic variables such as the customer's name, invoice number and other recorded information to save further time.
Once you're done creating the saved reply, click "Save" at the bottom right
Repeat these steps for however many additional replies you'd like to create.
---
Using Saved Replies
To use an already saved reply, Click on the "Add a Saved Reply" link as mentioned in step 1 above.
Next, click on the name that you designated for the saved reply
The contents of the body message will be inserted for your to preview.
Then click on the "Select Reply" button at the bottom right to add it tothe CRM message body
You may now send and process the CRM as usual.
---