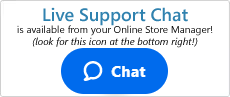 How does the CRM file upload feature work?
Beginning with version 7.2.2 of the Shift4Shop platform, your store's CRM functionality can now accept image and document file uploads from your customers and visitors. As merchant, you and your staff can also upload files to the customer while processing the RMA.
---
How do I turn this Function on?
To enable this function, log into your Shift4Shop Online Store Manager and follow these steps:
Using the left hand navigation menu, go to Modules
Use the search bar at the top and type in "CRM" to locate and open the module.
Locate the checkbox labeled "Enable File Attachments for CRM" and place a check in it.
Click "Save" at the top right of the page.
The function will now be enabled.
---
How do my CRM Visitors Upload a File to CRM?
As the CRM ticket is being created, the customer will see a button labeled "+Select Files" on the page. Clicking this button will allow them to browse their desktop and select the file that they'll be uploading to you.
---
How do I upload a file to the CRM?
As you process and reply to the CRM ticket, you will also see a "+Select Files" button in the Online Store Manager. This will let you upload the image to the CRM message that you will be sending to your customer.
---
What kind of files are we allowed to upload?
For the most part, the files will be images and document files.
.gif
.jpg
.png
.tif
.tga
.pdf
.doc
.txt
.zip
Note
In the case of image formats like jpg and tif, the files will need to be the 3 letter extension. In other words, file.jpg instead of file.jpeg and file.tif instead of file.tiff
---
How do I retrieve the uploaded image in an CRM?
When processing the CRM ticket, you will see a new "View Attachments" link under the message column header. Clicking this link will download the file to your desktop for review.
---