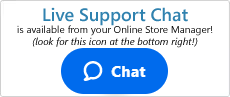 Why do I get a 404 message when going to the blog?
If you receive a 404 error message when accessing your blog, it's possible that your store's blog may be missing a few things. In order to function correctly, the blog will need to have the following components.
Link to the blog
When creating/editing your blog link in the Content >Site Content area, be sure that the page is linked to "blog.asp"
Do

not

use the full URL of your store (i.e. domain/blog.asp) or a forward slash at the start of the file name. (i.e. /blog.asp)
At least one current and published blog post
The blog won't work unless there's at least one blog posting/article published.
Make sure that the article/post is published (not in draft mode) and also that its post date is current (future post dates will not display until that date arrives)
If you still see a 404 error page when accessing your blog and after checking/correcting these items, please contact support.
---