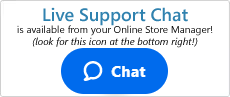 How Do I Make Items Tax Exempt With Speed Tax?
If you are using Speedtax to calculate taxes on your store, you will need to take an extra step in order to keep tax-exempt items from calculating tax charges.
When an item is marked as tax-exempt on the Shift4Shop side, or if tax is not factored in for discounts and/or shipping, there will be three product codes that are created for these items:
NONTAX
NONTAXSHIP
NONTAXDISC
When an order is placed with an item, shipping, or discounts that shouldn't be taxed (as per the settings on the Shift4Shop store) then they will be passed to SpeedTax with the product names listed above.
On the Speedtax side, you will then need to make sure these names are both present on your Speed Tax nexus, and set to "Exempt" to prevent the SpeedTax module from applying tax to these items.
---