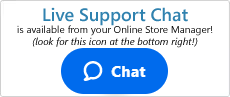 How do I integrate my Store with FedEx for Real-Time Shipping Calculation?
Your Shift4Shop store can be integrated with the main shipping carriers in order to provide your customers with real-time shipping calculations for their orders. Integrating your store with some shipping carriers also allows you - the Merchant - to print Shipping Labels (domestic U.S. only) for your customer orders, directly from the Shift4Shop Online Store Manager.
This guide will show you how to set up your account registrations with FedEx and then integrate your credentials to your Shift4Shop store.
Note
This process will involve first registering for a FedEx account in order to receive an account number from their service. Once this information is available, you will use it to complete your registration directly from your Shift4Shop Online Store Manager interface.
---
Register with FedEx
To register your FedEx account, please follow these steps:
Go to the FedEx home page.
On the page, click the button labeled "Open Your Account"
Complete your Registration Process as prompted on the FedEx pages
Once you have registered your new FedEx account you will have a FedEx Account number.
This information will be entered into your Shift4Shop Online Store Manager to complete the registration process.
---
Adding your FedEx credentials to your Shift4Shop Store
Once you have registered your FedEx account and have received an Account Number, proceed with the following steps to complete your FedEx registration process.
Log into your Shift4Shop Online Store Manager
Go to Settings >Shipping and click on the "Enter Settings" button beneath Shipping Settings
Next to the FedEx section, click on "Enter Credentials"
Do not enter any account information yet. Instead, click on the "Register with FEDEX" button.
Fill out the registration form
Click Save
Important Note
When filling out the Registration Form on your Shift4Shop Online Store Manager, be sure to enter the information exactly as it appears in your FedEx account.
Once saved, the registration form will generate your CSP Key, CSP Password, and Meter Number Information needed to complete your registration.
Important
If your FedEx Meter Number does not come over to the credentials page upon registration, please check your FedEx account. Typically this will happen if the your account (with FedEx) is set to Cash Only. In order to be given a meter number, you will need to change your FedEx account so that it is not Cash Only.
You can now add FedEx Shipping method to your store.
Please review our additional article on setting up the Shipping Methods
Additional Information:
Regarding the "HubID" field:
The information described in the steps above will create CSP User and Meter Information for your FedEx account. This information will be needed to integrate your store with FedEx and give you the ability to return real-time shipping calculation rates as well as the ability to print shipping labels directly from your Shift4Shop Online Store Manager.
Hub ID, (and "Special Address Services") on the other hand, are both exclusive to users of FedEx SmartPost. Therefore, these may be left blank if you are not given this information during registration.
If you would like to learn more about FedEx Smart Post and see if perhaps it can apply to your store; please click here.
---
FedEx Package Dimensions
Please be aware that FedEx has the following hard limits to their package dimensions.
Length: 119"
Width: 80"
Depth: 70"
To be clear, these dimensions are hard limits required by FedEx rather than Shift4Shop. Please consider these when specifying your products sizes. Especially if you are using the Ships by Itself function of the cart.
Also keep these limits in mind if you are using the Pre-Defined Boxes function along with your store's FedEx Real-Time Shipping Calculation.
---