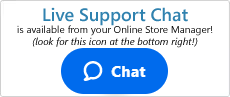 Knowledgebase
How do I integrate my Store with USPS for Real-Time Shipping Calculation?
Your Shift4Shop store can be integrated with the main shipping carriers in order to provide your customers with real-time shipping calculations for their orders.
This guide will show you how to set up your account registrations with USPS and then integrate your credentials to your Shift4Shop store.
Note
When registering with USPS, you will initially be placed on a Test API server on their system. In order to use USPS on your Shift4Shop store you will need to have USPS move you to a Production API server. More information on this can be found below.
---
Register with USPS
To register your USPS account, please follow these steps:
Go to the USPS Web Tools Registration form located here.
Fill out the form as required
After submitting the form, USPS will create your API login account. You will then receive an email with your API account credentials.
These API credentials will need to be entered in your Shift4Shop Store.
Adding your credentials to your Shift4Shop Store
Once you have registered and have been moved to the Production API servers for USPS Web Tools, proceed with the following steps to integrate them into your Shift4Shop Store.
Log into your Shift4Shop Online Store Manager
Using the left hand navigation menu, go to Settings >Shipping
Click on the "Enter Settings" button located under Shipping Settings
Next to the USPS section, click on "Enter Credentials"
Enter your USPS API credentials in the provided fields
Click "Save Settings" at the bottom of the page.
You are done integrating your Store to USPS and can now use Real-Time Shipping Calculation for USPS shipping methods.
Please review our additional article on setting up the Shipping Methods
---