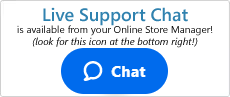 Why am I being told that I am not an "authorized user" by Shift4Shop Support?
We hold our customer's security and privacy very dear and due to this, Shift4Shop's Customer Service and Technical Support Teams are only able to provide help for verified and authorized contacts on the hosted Shift4Shop service account. Because of this policy, there may be times where a site's webmaster or other party calling on behalf of the account may be turned away or denied full service support.
Therefore, in order to be assisted as fully as possible, please make sure you are a verified contact on the account before calling or submitting a ticket to Shift4Shop's customer support teams.
---
What kind of Support can I get if I'm not authorized?
If we are unable to verify you as an authorized account contact, then the scope of support to your questions will be limited to basic information and Knowledge Base articles. Anything other than that would potentially be in breach of our security policies.
---
Well then, how do I get listed as an authorized contact?
In short; contact the Primary Account holder
The primary account holder is the person whose billing information we charge for service. They will always be listed in our internal account management screens as an authorized contact. This person can always contact Shift4Shop and - once verified - can request that we add or remove additional authorized contacts as needed. We will just need a name, an email address and basic contact information such as a phone number to add a contact to your account.
Once someone is listed as an authorized account holder, they will be able to get full support and help from Shift4Shop's customer support teams.
---
How is the Primary account holder verified?
We have two main ways to determine the main account holder is verified:
Contact email Address
In order to verify the request to add more contacts, we will need the primary account holder to email us from the email address listed on the account. In other words, if John Doe is the card holder on the account and his listed email address is [email protected], then we will need the request for additional contacts to come from that same email address. Email addresses will be our main way of determining authorization
Contact phone number
In some cases the email address may be outdated or no longer in use. In these situations we will simply call the number we have on file and - if we're able to reach the primary account holder there, verification is established; contacts can be added thereafter as needed.
---
Additional Security Measures
Furthermore, if you are the primary account holder, we can also set additional security measures such as verification pass phrases or other information to make sure only authorized people are able to contact us on your behalf. Just ask and we'll apply whatever verification code words or notifications you'd like on the account.
Special Note
As the Primary Account holder, please be aware of and exercise caution in regards to who is listed on your account's contact list. For example, if you have former employees that no longer need access to your site's support channels, let us know and we'll remove them for you.
(Once we verify you as the primary contact, of course)
We apologize for any inconveniences this may cause in your ability to get direct support, but we hope you understand that the policies are enforced for your account's security.
---