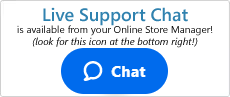 I'm expecting a huge spike in traffic! What should I do?
Many times, a merchant may be presented with the golden opportunity of having their store or products featured in a national media spotlight like television shows or news programs. This kind of national exposure can greatly elevate the amount of traffic that comes to your site.
If you are fortunate enough to garner this kind of attention, PLEASE LET US KNOW as soon as possible! Contact our Support Department with as much prior knowledge as possible so we can prepare your site for the eventual spike in traffic.
Prior to contacting Support, you will need to upgrade your account to one of our Enterprise Plans to prepare for the traffic. You can upgrade from the My Billing section of your Shift4Shop Online Store Manager at any time.
Important
When upgrading the account, please allow up to 48 hours for the upgrade process to complete.
Once the upgrade is complete, contact our Support Team.
When you contact support, please try to predict a general estimate of the traffic you are expecting as well as an estimate of the number of orders you will expect. Support will gather this information from you and will get this information to our server administrators to further determine if there are additional steps to take for your account.
Again, we ask for as much prior notice as possible just so we can get all the right wheels turning for you and your store in a timely manner. It's your site's spotlight, and we just want to make sure we have enough time to review your site's server performance for the potential spike in traffic and ensure everything goes as smoothly as possible. So if possible, please let us know up to a week (minimum) in advance of your site's (and your) good fortune!
In addition, aside from server performance considerations, we also want to make sure we have enough time to spread the word about your good fortune and announce your national debut across our social media channels like the Shift4Shop Fan Page, our blog and twitter accounts too! We're just as proud as you are when your site makes it to that next level, and we want to make sure the Shift4Shop Community is fully aware!
---