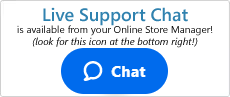 Can I hide items in bulk?
Yes!
Sometimes you may need to hide a whole bunch of products at once. Maybe there's a recall on a certain brand, maybe you're temporarily out of products from a specific distributor. Whatever the case may be, hiding items oneat a time can take forever!
Fortunately, there's a little trick you can try.
In your Shift4Shop Online Store Manager, go to Products >Inventory
This section is mostly geared towards updating your inventory in bulk, but it also has a side benefit of being able to hide multiple products at once.
Just click on the "Advanced" search button at the top of the page, and filter by Category, Distributor or Manufacturer to narrow down your selection.
Once you've got your list of products ready, use the "Hide" checkbox to the right of each listing and save your changes!
Tip
You can also perform the same basic action via a CSV Export/Import. Just look for the column header labeled "hide" and place a 1 for any product you need to have hidden. Then import your file and you're all set!
---