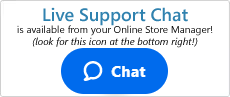 How do I assign Serial Numbers to my eProducts?
The e-product feature allows you to include a serial number for each download file you sell. The serial number is used for products in which a customer must have a unique number issued to them to activate their product. Such examples would be a serial number to activate software or a unique pin number needed to activate a phone card.
---
Add a Path
The first step to creating your e-product is adding a path to the download file.
Go to Products >Product List
Click the name, ID or thumbnail of the product you would like to sell as an e-product.
Or look to the far right and click on it's Action Wheel to select "edit"
Click on the e-products tab.
In the Change Path Name field, either type the path to your download file, or click Browse and select the file from your file manager.
Click Save.
Type any instructions you may have about the download file into the Special Instructions field. This will display on the web page the customer downloads their file from.
Click Save.
Click on the Manage Keys button.
In the Serial Manger popup, click Add New.
Type the serial numbers you would like to distribute. Add one serial number per line.
Once you have added all of your serial numbers, click Add.
Close out the Serial Manager Popup.
Check the Assign Key Checkbox.
Check the Re-Use Keys checkbox if you would like to reuse the serial numbers after they have all been distributed. Leave it unchecked if you want each serial number to be issued only once.
Click Save.
*Important
Be aware that the system will check for the number of available serial numbers before generating the download links for the customer. If the system does not have enough available serial numbers to generate a download link, you will receive an email notification to let you know. You will then need to enter more serial numbers to complete the process for any orders that failed to generate a link.
Please also be aware that the serial numbers will only display for your eproducts when the order itself is listed as being paid in full.(new, shipped, etc) Orders residing in your store's unpaid status will allow the user to download the eProduct, but will not list any serial number information along with the download.
---