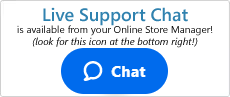 Setting Up Stone Edge Tutorial
Your Shift4Shop store comes with a built-in integration to Monsoon Commerce's Stone Edge Order Manager (SEOM) software which allows the Stone Edge program to connect to your Shift4Shop Store and process your orders.
---
Setting Up the Store Connection
To get started setting up the integration between your Shift4Shop Store and the Stone Edge Order Manager, you will specify a login that your store will use when connecting to StoneEdge.
Log into your Shift4Shop Online Store Manager and, using the left hand navigation menu:
Go to Modules
Look for the Monsoon StoneEdge module and click on its +Icon to expand the selection.
Next, click on the "Settings" link
Specify a Username & Password for your Stone Edge program to connect with and click on the "Save" button towards the right of the page.
Note
The username and password are used only by the Stone Edge Software to connect to the store and are not tied to any specific account information. They can be anything you'd like to use, as long as they match what you will eventually enter into your Stone Edge interface later on.
After Saving the Page, copy (CTRL-C) or make note of the link provided at the bottom of the screen.
Tip
When entering the Link URL into your Stone Edge program, please note that the name of the file is stonedge.asp (with one "e") instead of stoneedge.asp
Once you have set up your Shift4Shop Store to allow connections from Stone Edge, the Username/Password that you configured in the above steps will be used to connect StoneEdge to your store. The https://[your-store-secure-URL]/stonedge.asp link described above will be used as the "Script URL" in StoneEdge to complete the connection.
Important Note
The above information in this article is the entire scope of knowledge Shift4Shop support is able to provide for Monsoon Commerce Stone Edge. Anything further than connecting your Shift4Shop store to Stone Edge will need to be addressed and resolved through Stone Edge's technical support channels.
---