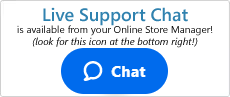 How Do I Upload My Product Images?
There are several ways to upload images to the Shift4Shop Online Store Manager. You can manually upload a small number (8) of image files at a time, or upload all of your images at once via FTP. This article will go over the various ways to upload your images and the benefits of each method.
---
Manual upload
You may only need to upload one or two images to your Shift4Shop Online Store Manager. If so, this is the best method to use as it is the quickest method for uploading a small number of files.
Log into your Shift4Shop Online Store Manager.
Using the left hand navigation, go to Products >Images
This will take you to the store's file manager where your product images are typically contained.
Click on the "Upload Files" button at the top right of the screen
This will open up an additional popup window where you can upload product images.
You can either drag files into the space provided, or otherwise click on the "Browse" button (in the top left) to navigate your computer for the files.
Once the images are selected, click on the "Start" to begin the upload for each individually, or click "Upload All" to batch upload them.
After they are uploaded, you may close the window altogether if you are done, or otherwise click the "Clear" button for each image to remove it from the list (if you have more files to upload)
Important:
The file manager in your Shift4Shop Online Store Manager can only upload image and PDF files. All other files types (i.e. non-image files like *.doc, *.html, *.csv and *.txt) will need to be uploaded via FTP. (see next section)
Please also note that large and high resolution images may be better suited for FTP upload rather than via the File Manager interface. Click here for more information on this.

---
FTP Image Upload
FTP is the best and quickest method for uploading a large amount of files, however, you must have a working knowledge of file transfering to use this method.
FTP is mostly used by advanced users, but with practice, most people can become easily familiar with it.
If you would like to read more about FTP, please click here. Your FTP username, password, and hostname are provided to you in the Welcome Email you received when you started your account with Shift4Shop.
Once you FTP to the server, you will want to upload your images into the web/assets/images folder.
Tip:
The web/assets/images folder is the same folder used by the File Manager tool referenced earlier.
---