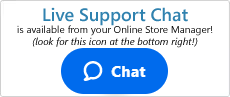 How Do I Use the Shop.com Feed Export?
---
Shop.com Export
Note
You will need to have a Shop.com account before proceeding with the process. If you do not have a Shop.com account, you can sign up for one by clicking here.
Unlike some of the other Shopping Engine Feeds, the Shop.com export will be generated in the form of an XML file and cannot be customized or automatically uploaded to your Shop.com service. Instead, getting the feed to your Shop.com account is a manual process.
Generate Feed
Log into your Shift4Shop Online Store Manager
Use the left hand navigation menu and go to Marketing >Shopping Engines
Look for the "Shop.com Export" section located on the right hand side of the page
While viewing the Shop.com Export Plugin, click on the "Generate Feed" link.
The store will generate the feed XML for you to select all (ctrl-a), copy (ctrl-c), and paste (ctrl-v) to your Shop.com account as needed.
---