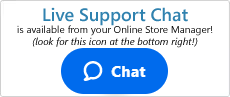 Can you set my payment module to "Test Mode?"
Check the settings inside of your store's payment module. In many cases, there will be a checkbox that will place the module into test mode. Just remember to uncheck this box before going live with your store!
If your particular payment method does not have this setting, then you can still test the gateway out by simply creating a product with a small price and using it to test the order process. Click here to learn about testing the store.
---