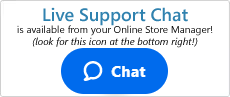 What is the 3dFeedback Feature and how do I use it?
3dFeedBack allows you to collect valuable feedback information from your customers to help you improve your overall site and store presence.
---
Enabling the Feature
3dFeedBack is already available for use, so it's not technically something that needs to be "enabled" However, there is a widget code that should be applied to your store's global footer in order to have the trigger action for the feedback form. So our first step is to retrieve the provided code.
To do this, log into your Online Store Manager and use the left hand navigation menu to go to "Modules." At the very top of the page, you will see the 3dFeedback setting listing. Click on it's +Icon to expand the module and click on its "Change Settings"link.
---
Settings Page
The 3dFeedback Settings page will contain the following options
Feedback Logo
Used to specify a logo on your feedback form
Feedback Categories
Use this section to edit the categories used in your feedback form

*
*Note:
Editing Feedback Categories and requesting contact information is only available on certain Shift4Shop plans.
Request Contact Information
Will request and collect contact information for the person giving the feedback.

*

Widget Script
This is the coding that will need to be placed on your site's global footer
---
Widget Script
Select all of the widget script (CTRL-A)and copy it. (CTRL-C)
Now, navigate to your Content >Header &Footer page in the Online Store Manager. Go to the Global Footer section and paste (CTRL-V) the widget script there. Also, be sure the Global Footer is enabled. (The green button at the top right of the Global Footer section)
Additional Information
If you are using a CORE theme for your store, the widget script will be automatically injected on your pages when the "Enable" checkbox is marked. Therefore, you will not need to place the widget script anywhere on your store manually.
---
3dFeedback in Action
Your store will now contain a tab on the right hand side of the overall site where users can click to bring up the 3dFeedback form. Once there, they can rate your site as well as select individual categories with which to give you feedback.
They can then Submit their message to you.
Furthermore, if your type of account allows the collection of email addresses, the person submitting the feedback can also subscribe to your newsletter when their feedback is submitted.
Reading Feedback
To Review your collected Feedback, go to "Modules" and click on the "Change Settings" link next to 3dFeedBack.
At the settings page, click on the "View Feedback" button located towards the top right of the page
The feedback log will contain the feedback rating, comments and visitor information pertaining to the submitter.
Note
If your account type allows for the collection of contact information, you will have access to the submitted email address. Furthermore, Feedback Performance Reporting will be available to you as well.
---