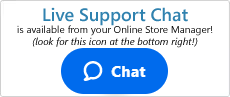 What is the Facebook "Like" button?
You can add a Facebook "Like" button directly onto your product pages that will allow your shoppers and site visitors to click a Like button on a product in your store and have the "Like" posted to their Facebook Timeline. This allows the item to be viewed by all of their Facebook friends and help link them back to your store.
To enable your store's Facebook Like Button, log into your Shift4Shop Online Store Manager and, using the left hand navigation menu:
Go to Marketing >Like Button
Place a mark in the "Enable" checkbox
Save your Changes by clicking on the "Save" button found along the top right of the page.
Tip
The "Advanced" button will allow you to view, edit and restore the scripting that controls the facebook like button as well as your store's open graph meta tags.
Now, when you view your products, the item will be shown with a Facebook Like button as shown. When clicked, the user can write a post about it and share it instantly to their Facebook Timeline for all their Facebook Friends to see.
A second feature of the Facebook like button is the addition of a "Share" button that will allow Facebook users to post the item onto their timeline with comments (similar to the like button) or share it with select groups or individual friends on their Facebook list.
---