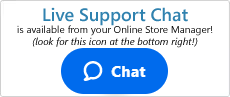 Can I hide product bundle options but still have them applied to the order?
Unfortunately, no.
Merchants using the Product Bundle function have the ability to make the options pre-selected and/or required in order to have their shopper absolutely purchase the bundle. However, some merchants in the past have also tried hiding the bundle options from the product listing page in an effort to minimize the number of options that are displayed. The hope is that - by making the bundle options pre-selected and hidden on the product listing page - the shopper will still be able to order the bundled kit and have it appear as an itemized list on their shopping cart.
Unfortunately, this will not work because hiding the option from the page negates its use altogether. The hide function on Product Options is intended to hide selectable variations of the product that are not available because they are out of stock. Therefore, the mere act of hiding an option (even if it's pre-selected) will remove it from the equation completely.
---