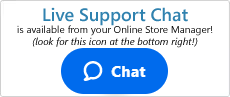 Why Am I Being Asked To Submit Tickets Via The Shift4Shop Online Store Manager?
You may have noticed lately that we've been asking our merchants to submit their tickets and replies via their Shift4Shop Online Store Manager. Our reason for this request is simply that we feel tickets originating from the Online Store Manager will help address your ticket in a more efficient manner and (hopefully) resolve your issue much quicker than an externally created email sent to [email protected].
Here are some of the advantages you can expect by using the Online Store Manager's Ticketing system.
Topic Based Suggestions

As you begin to write your issue into the support form, the system will gather keywords as you type them and actively suggest articles that might help your specific issue. Thereby giving you the answer right then and there - if/when available - instead of you waiting for support to respond to your ticket.

Categorizing

Furthermore, when submitting a ticket via the Online Support form, you'll be asked to categorize your issue as closely as possible using the available drop down menu options. We do this to help determine the general content of your ticket and to help us delegate your issue to the most appropriate support personnel - thereby ensuring the proper department, teams and individuals are looking into your matter

Account History

Another advantage to using the Online Support feature is that your ticket and domain are closely linked. Thereby allowing your account history to be easily accessible by the support agents. From a support standpoint this can be a great benefit because the agent can simply look at your account history and determine if your ticket may be related to previous issues and resolutions. Also, you yourself will be able to review your ticket history and any issues you may have had answered before.

Verification

Finally, when submitting a ticket via the Online Store Manager - using the same admin email address as listed on your Shift4Shop account - the system will automatically verify you as the account holder! Once we see that it's verified, we won't need to waste a ticket reply just to ask you for verification.
So as you can see, submitting your trouble tickets via the Shift4Shop Online Store Manager will help us address your issue more efficiently and hopefully get you back to running your store in no time!
---