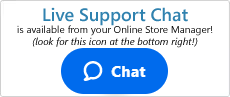 Why won't my Blog display?
Check for the following:
Module - Make sure the blog module is enabled
Go to Modules
Use the search bar at the top and type in "blog"
When the module appears, ensure there's a mark in the "Enable" checkbox.
Site Content - Make sure you have a site content menu link created for your blog.
Go to Content >Site Content to confirm your menu link is created. If not, you can create on by clicking "Add New Link" and naming it as you'd like it to appear in your menu links (i.e. Our Blog).
After the blog link is created, click on its "Content" button and make sure the link is specified as "blog.asp"
Articles - Make sure you have at least one article created for your blog.
To create an article, go to Content >Blog and click on the "+ Add New" button located along the top right.
Make sure your articles are dated correctly. The proper format of the article post date is mm/dd/yyyy (full year). Also, please remember to specify the article's date as current. Articles will not display if the post date is listed as being for a future date.
(Although, you can use this function to schedule future articles!)
Make sure the article is not in "Draft Mode." To verify this, go to Content >Blog, select your article and click on its "Action>Edit" button. Uncheck the box labeled "Draft Mode - Yes " and save changes by clicking on the Save button at the top right.
---