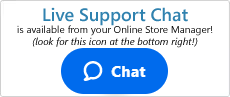 How do I use the Top Sellers module?
You can use the Top Sellers module to list your store's top selling items along your store's side banner. To enable Top Sellers:
Log into your Shift4Shop Online Store Manager
Using the left hand navigaito menu, go to Modules
Use the top search bar to search for "Top Sellers" to pull up the module
You will have the following options:
Enable Top Sellers
Mark this checkbox to enable to module
Number of Top Sellers
Specify the number of top sellers that are shown on the pages (default is 3)
Days of Top Sellers History
Specify the number of days that are will considered for top seller history.
The feature will use your selling history within this time frame to dislay the most popular items (default is 3)
Display Category Specific Top Sellers
Mark this checkbox if you would like for top sellers to be shown for each specific category as they are being viewed.
Specify your desired settings and click "Save" at the top right to commit your changes.
---
How are the products shown as top sellers defined?
Aside from the settings described above, the top sellers feature will also use the following parameters to define which items will be shown.
Number of units sold for the item
(whether in multiple orders, or one BIG order; the number of units

sold

is considered)
Items that are not marked as hidden
Items that are not marked as "non-searchable"
Note
Quantity on hand does not affect the Top Sellers, so products that have sold out completely could potentially be listed as top sellers.
---