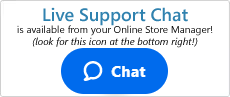 Why is the store charging regular rates for USPS at checkout?
Issue:
The order is being charged for regular USPS rates, but the rates are higher than what my Label Manager shows through Endicia.
Cause:
Shift4Shop's real-time integration for USPS uses

retail

rates rather than online rates
Shift4Shop's connection to USPS for real-time calculation is based on USPS' API which returns regular retail rates. However, if you are using Shift4Shop's DYMO|Endicia integration (or another USPS label making program), your labels may be receiving USPS' online rates.
This means that - although the customer paid you for $x.xx amount of dollars for the shipping, your label for the actual shipment only costs $y.yy amount of dollars and is lower than what they paid.
This is normal because Shift4Shop's connection to USPS for real-time shipping calculation is based on Retail rates rather than Online rates.
If you would like to offer a discount on the USPS shipping rates in order to more closely match USPS' online rates, you can apply negative markups to your USPS shipping methods as desired.
---