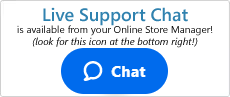 What is 3dZoom?
3dZoom will instantly display a large, zoomed version of your products image when a visitor places the mouse cursor on top of the image. Uploading a large image to the product via the store manager automatically enables the 3dZoom without the need of uploading additional images via FTP.
---
Enable 3dZoom
To enable this feature:
Go to Settings >General >Store Settings
Once there, click on the "Product Display" tab

Scroll down to the "Products" section and look for the "Enable Product Page Zoom" setting.
Select 3dZoom from the drop-down menu and click the Save button found along the top right of the Settings page.
Your products will now have a zoom function when moused over. Your customers can also click on the image to instantly zoom the whole image.
Tip:
Setting the above to "None" will remove the magnification effect from the Zoom. However, the product will still show the larger image upon clicking on the image.
---