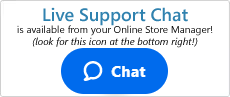 How Can I Add a Video to My Product Page?
The power of video in e-commerce is noticeably bringing products to life, improving visitors experience and increasing conversions. The Product Video feature allows easily adding a product related video, whether it's a product review, demonstration, or viral commercial; and displaying it within your product pages.
---
Note
This video feature does not support the ability to add videos with timestamp markings to play the video from a specific point.
To Add a Video to your product:
Go to Product >Product List
Find the product you'd like to edit and click on either its ID or Name to open it.
You can also look to the far right of the product and click on the "Action >Edit" button

When viewing the product's details, click on its Images Tab located along the top.
You will now be in the Product's Images tab where you can add your product's main and supplement images. Look beneath your product's Main image and Thumbnail sections, and you should see a "Video" section.
This section consists of a text field where you will add the URL to your desired YouTube video. Simply copy the URL of the video that you'd like to display on the page and paste it into the field with the following steps.
Enter the embed URL (include the https:// prefix!) for the video that you'd like to play on the product page into the field
Click the Save button found along the top of the page.
Once the product is saved, your visitors will be able to view the video directly from the product listing page!
Note
While the video function was intended to work with YouTube specifically, you can also embed video from other sources if you'd like (wistia, vimeo, etc). As long as you have the video's path/URL, you can place it in the URL field as needed.
---