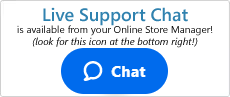 What Are My Customer Export Options?
In the Export/Import section of your customer menu, you can generate CSV format files of your customer information. Similar to the Product and Order CSV exports, these files can be edited and imported back to your store as needed.
---
Export
First, log into your Shift4Shop Online Store Manager and, using the left hand navigaiton menu:
Go to Customers >Customer List
Look towards the top right of the page and click on "Export/Import"
This page will allow you to view your customer export options. Along the left hand side of the page you will see your Export options. These are:
Newsletter Emails Export
Allows you to export, review and edit a CSV file of all the email address that have subscribed to your newsletter.
Customers Export
Allows you to export a complete listing of all your customer login records (both active and inactive) into a CSV file. You can also export the list filtered by the store's customer group and/or alphabetically by the customer's First Name or last login dates. Other options include:

No orders between Create an export of customers based on a range of dates when the customers did not place any orders.
Tip:
You can also select to use either the default columns on the export (for the most common columns), or export ALL of the customer record fields. Click here for a list of the columns that will be included in the default export.
Blacklist Emails Export
Allows you to export a list of customers who have opted out of receiving your newsletter emails by unsubscribing on your site.
Reward Points
If you are using the Reward Points module, this option allows you to export a list of customers who have accrued reward points and what their respective points are.
Store Credits
If you are using the Store Credits module, this option allows you to export a list of customers who have store credits and what their awarded credit histories are.
Additional Information
To clarify, the exporting of your data will not remove it from your store's database. As with all Shift4Shop export options, the data will still remain in your store. You'll just be exporting it for the CSV file that is generated for you.
---
Import
Along the right hand side of the page, you will see the customer Import options. These are:
Newsletter Email Import
Allows you to import email addresses to your store for newsletters.
Blacklist Emails Import
Allows you to import emails for customers who have asked to be unsubscribed from your mailing lists
Customer Import
Allows you to import updated and new customer records to your store.
Reward Points
Allows you to import reward points for your customer records as needed.
Note:
After exporting your CSV files, you can make edits to them and upload them using their respective import functions. This however, only applies to editing existing records. To add new customers to the respective lists, it is best to use each function's resepctive "Sample File," which is located on each heading.
This is usually most necessary when adding new customer records to your store using the Customer Import function.
---
Additional Information
The actual import/export process takes place "behind the scenes" of your store's software to prevent it from interfering with your store's active processes. By allowing the function to work in the background, you can go to other pages of the admin and still work on your store while importing or exporting large files.
During the process, you will be taken to the Import/Export Status page which will display a grid layout of your recent imports and exports. The progress column will show you the progress of the import.
At the far right of each grid item will be an action wheel that contains the following options:
Download: Allows you to download the CSV file after a successful import/export
Notify Me: For larger, more time consuming files; this option will let you input your email address so that you will receive a notice once the import/export is complete.
View Log: Allows you to review the log of the import/export so you can see how many items were updated, inserted or if any records failed.
Cancel: Allows you to cancel an impending import/export
Retry: If for some reason the import/export fails, you may use this option to attempt a retry of the file.
Delete: Use this to delete the record altogether from the status page.
This will be present in all of the store's Export/Import functions.
Note
Please make sure your store's secure URL is pointing to your Shift4Shop store.
---