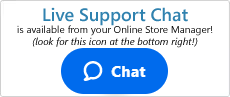 Knowledgebase
How Can I Allow My Customers to Ship to Multiple Addresses?
In some cases, you may want to allow your customers the ability to ship their orders to multiple destinations. For example, your customer may want to place an order and have part or all of it shipped to someone else as a gift. In order to take advantage of the real time shipping calculations for these multiple addresses, you would want to enable the "Multiple Ship to" feature on your cart.
---
"Multiple Ship To" Feature
To enable the Multiple Ship To function, log into your Shift4Shop Online Store Manager and, using the left hand navigation:
Go to Modules
Look for the "Multiple Ship To" module and click on its + icon to expand the selection
Please a mark in the " Enable 'Multiple Ship to' Feature" checkbox
Save your changes by clicking on the "Save" button along the top right.
How it will look to your Customers
With this setting, when your customers place an item into their cart, they will now be given the option of designating the item to go to a different address.
Then, when they get to the View Cart page, they can specify the address to which the items will be shipped to. Furthermore, when shipping is calculated on the order, the rates will be factored for each destination independently!
Note
When viewing the order in your Online Store Manager, the order will appear similar to the orders shown in our Split Shipment article.
However, unlike a regular "Split Shipment" order, the shipping costs on this example are already paid for in full, since both addresses were factored in the shipping calculations during purchase.
---