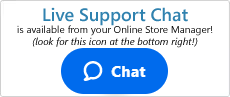 Which Version Of QuickBooks is compatible with Shift4Shop's QuickBooks plugin?
The Shift4Shop QuickBooks Plugin Supports:
U.S. editions of QuickBooks Financial Software products
QuickBooks Enterprise Solutions (2013 or later)

*

QuickBooks Premier (2002 or later)
QuickBooks Pro (2002 or later)
QuickBooks Simple Start (2006 or later)
This includes specialized editions, such as the Accountant Edition, Contractor Edition, Nonprofit Edition, etc.
*Please Note:
Quickbooks Enterprise is designed to work over a network. However, for Quickbooks Enterprise use, you will be requred to have the Shift4Shop Quickbooks connector and the store file residing on the same computer as your Quickbooks Enterprise installation.
---
Note:
- The Plugin supports US versions of QuickBooks only.
- The plugin is not compatible with earlier editions of QuickBooks, QuickBooks Basic Edition, the Web Based Quickbooks POS, or Quickbooks Online.
- The Shift4Shop QuickBooks plugin supports QuickBooks for Windows 2000, XP, and Vista. It does not support QuickBooks for Mac.
---