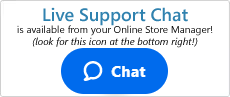 How do I use the RSS Reader option?
RSS Content Reader
The RSS Reader feature allows you to add targeted content from any RSS feeds like Yahoo News, Google News, MSN News, etc. Content is updated in real time and displayed as part of your site. RSS feeds properly used as content and relevant to your website are safe with search engines, and great for your visitors.
To use this feature, login to your Shift4Shop Online Store Manager and:
Go to Content > Site Content,
Click on the "+Add" under either "Menu Links" or under "Extra Page"
Tip:
These functions are almost the same, except "Menu Links" will generally appear at the top of your page, and "Extra Pages" will appear at the bottom, depending on the theme you're using.
Type your desired page name in the "Page Name" field,
Choose a parent page if you'd like by using the "Sub menu of:" drop-down,
Add a sorting value into the sorting field. The higher the number the farther it will display
Check the Hide box if you'd like the link to be hidden
Click "+Add" along the bottom right of the section to add the page.
Once the page is added to your list, you will need to edit it further to reference the RSS feed that you'd like to use.
Look to the far right of the Site Content page listing and click the "Action >Content " button.
Using the URL of the RSS feed that you'd like to use, copy and and paste it into the "Link" field at the very top.
Tip:
The URL for the RSS feed should contain the appropriate http:// protocol at the beginning to work fully.
Next, go down to the "Target" section and select "RSS Reader" from the dropdown list,
Click "Save" at the top right.
Now, when you access this page on the storefront, you will now see the RSS Feed that you entered into the field. More importantly, the RSS feed will inherit your site's general look and feel.
---