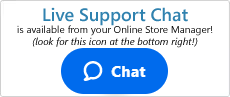 How can I have the coupon code window on my checkout pages?
When using a gift certificate or marketing promotion coupon on your store, shoppers will typically enter the coupon code onto their view cart page.
By setting your store to Single Page Checkout, it is possible to have the coupon code available on the checkout page as well.
Here's how to configure the Single Page Checkout setting.
Log into your Shift4Shop Online Store Manager and use the left hand navigation menu to:
Go to Settings >General >Store Settings
Click on the "Checkout" tab at the top of the page
Under the "Checkout" section, mark the checkbox labeled "Enable Single Page Checkout"
Click "Save" at the top to commit your changes.
This will streamline your store's checkout process by having the shopper enter their billing and shipping information all on the same page (as opposed to entering shipping information first, clicking next, then billing, etc).
As an added advantage, the checkout page will also include an area where the shopper can enter a coupon code during the checkout process.
---