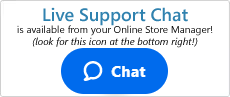 Can I have a custom Price Display?
By default, the price set in your product's "Information" tab is the price that appears to your shoppers.
However, you may have a situation where your product does not have a set price. For example, a customer may need to choose specific product options which will dictate the final price for the product, or perhaps the product is custom made and the customer needs to call your store to get pricing. For this reason you may need to display, "Pricing starts from $X and up" or "Call us for pricing" in place of the general price.
Tip:
Another possible situation where you may need custom price displays is one when you need to adhere to MAP (Minimum Advertised Price) rules from your distributors/manufacturers.
By using the Display Text feature, the custom text will display in place of the price of the product on the web page. Only after the customer adds the product to their cart will they be able to see the value of the item.
To Set Display Text:
Go to Products and search for the product that you'd like to edit.
Click on the product's name (or look to the far right of the product and click on its "Action >Edit" button.
Click on the product's Advanced Tab and look towards its "Price and Quantity Options"
Type your customized price wording in the Display Text field
Click Save Changes.
Your product will then display to customers in the format shown below:
Note:
The value entered into the Price field on the product Information tab is the price that will display in the View Cart page after the item has been added to the cart.
---