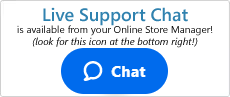 Why am I getting an "Invalid Shipping Method" message on my FBA orders?
Merchants using Shift4Shop's Fulfillment by Amazon (FBA) feature sometimes run into an issue where their FBA orders appear in the Online Store Manager with a message stating that the shipping method attached to the order is invalid, thereby preventing the proper submittal of the order to FBA for fulfillment.
The error message may read as follows:
FBA Error: 'The current shipping method selected in this order is not mapped to a valid Amazon shipping method. Please check your current FBA settings here.'
This is typically caused when - after first setting up your FBA functions in the Shift4Shop store - you edit or otherwise add new shipping methods to your store. The issue also occurs when you have items marked for "Free Shipping" but the store's default Free Shipping module is turned off.
As described in the FBA setup article, part of the process of configuring your FBA setup is to map your shipping methods from the store to one of three shipping methods available on FBA. When editing or adding new shipping methods to your Shift4Shop store, you simply need to go into the FBA settings and refresh the new methods to FBA.
To correct this, log into your Shift4Shop Online Store Manager and:
Use the left hand navigaiton menu and go to Modules
At the top of the page, use the search bar to search for "Fulfillment By Amazon"
After the module appears, click on the "Settings" link
Once there, you will see your FBA configuration settings and your store's current shipping setting as they are mapped to the FBA service. This will include any new shipping methods you may have added since your initial set up of the FBA function.
Double check your shipping methods and make sure they're mapped as desired
Click "Save" at the top right of the page
This will refresh the shipping mapping on your FBA service and take into account any new methods which you may have added since first setting up FBA.
---