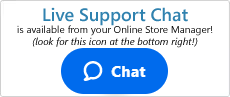 Knowledgebase
How do I set up Fulfillment by Amazon?
Fulfillment by Amazon
What is it?
Fulfillment by Amazon (FBA) is a fulfillment service that allows you to have your orders processed and shipped directly from Amazon warehouses.
What are the advantages?
When shipping your orders and products from Amazon distribution centers, your products will be shipped using Amazon's preferred carrier methods and services. Thereby saving you on shipping costs.
---
Sell on Amazon
The following steps assume that you are already set up to sell on Amazon and have set up your Fulfillment options with them. If you have not yet done this, you may begin the process by clicking here.
Once you have completed your Sell on Amazon and Fulfillment by Amazon account set up, you will need to ship your products to Amazon for fulfillment. Instructions and warehouse address information will be provided by Amazon for you.
---
Integrating it with Shift4Shop
The first step in preparing your store to use FBA is to create a distributor record that will act as the "dropshipper" for your FBA products.
Adding a distributor
Go to

Settings

>

General

>

Distributors

Click the "Add a Distributor" button at the top right of the page.
In the popup modal, type in a name for the FBA "Distributor" in the Company Name field and click "Add"
The page will load and you'll be presented with additional fields for the distributor such as address and contact information as well as special comments. You can enter whatever information you'd like in these fields, but the shipping address should be configured as your own business shipping address. Then, look to the right hand side of the page and directly beneath the comments field you will see a checkbox labeled "Is Dropshipper."
Mark the "Is Dropshipper" checkbox and set the distributor record as a Dropshipper
Note
The name of the distributor record can be whatever you'd like it to be. Most Merchants will use FBA, Amazon, or something along these lines. The only important thing is to be sure to mark it as a dropshipper. The distributor's shipping address should be configured as your own business shipping address. Again, the main requirement is that it be listed as "Dropshipper."
Setting up FBA
Now you'll set up the FBA module.
Using the left hand navigation menu, go to Modules
Once there, search for "Fulfillment By Amazon" to find the module.
Then, click on the "Settings" button
At this point, you will link the Shift4Shop store with your Sell with Amazon account. To continue:
Click on the "Initiate Onboard Process" button
Sign into your Amazon Seller Central Account.
Note
If you have 2-way authentication set up on your Amazon Seller Central account (you should!), you will be prompted to enter the special 6 digit code they send you to log in.
After logging into your Seller Central profile, you will be asked to authorize the onboarding connection.
Mark the checkbox to authorize 3rd party access to your account and click next.
Then click "Continue" at the "You are almost done authorizing..." page.
After the onboard process is complete, you'll be taken back to the FBA module on your Shift4Shop Online Store Manager.
Mark the "Enable" checkbox at the top left of the page
Specify your distributor for the plugin using the drop down.
This is the dropshipper distributor you set up at the beginning of this article.
Lastly, map your shipping preferences for the module*
(see note)
*Note
Mapping Shipping Settings
The FBA plugin will take your existing shipping methods, and list them so they can be mapped to their Amazon equivalents. Amazon has three shipping methods:
Standard
Expedited
Priority
This mapping process is necessary so that - when someone orders from your store and selects their preferred shipping method from your checkout - the fulfillment process uses a comperable method from Amazon's service when it is shipped. For example, if you offer a Next Day Air shipping method, you'll likely want to map it to Amazon's "Priority" method.
Click the "Save" button found at the top right to commit your changes
That's it! You're all set for Fulfillment by Amazon
Special notes about FBA
Fulfillment by Amazon requires certain considerations for your product listings in order to work correctly.
First, your product SKU/ID designations must match the Amazon facing product ID. Otherwise the order will not be fulfilled.
Secondly, you must have product available at the FBA distribution center (the physical location) for the order to go through successfully. If a particular item is out of stock at FBA, the order will not process.
When orders are properly accepted by the Amazon API, the order's internal comments section will be populated with an authorization code written in an alphanumeric format similar to the following:
x0000000-x00x-0x0x-xxxx-0x00000xx00x
If an order doesn't go through, you can also try resubmitting the order by clicking on the "Actions" button located at the top right of the order and selecting "Resubmit FBA."
---